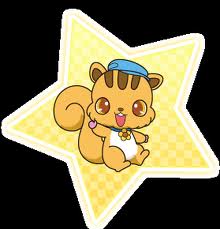 Titana (チターナChiitana

?

)

Jewel: Titanite
Species: Chipmunk
Gender: Male
Jewel Power: Balance
Attribute: Magical Red
Voiced by: Erika
Titana is Nicola's Jewelpet partner. He is a brown Chipmunk who symbolizes balance. He wears a blue cap and a necklace shaped like a yellow and orange flower. Debuting in the first season, he's the fastest of all the Jewelpets in Jewel Land as well as a fast talker. He's also very active and nimble, and a self-styled Tokyoite. He is an honor student in Jewel Land, earning him the Crystal Class ranking in magic. In Jewelpet Twinkle, he is Nicola's partner who thinks that Akari and Ruby are still novices in magic. His speeches always end with "Dechu" and he also loves popcorn. He will appear again in Jewelpet Sunshine as one of the students at the Sunshine Academy and an admirer of Kanon. His birthday is on September 23 and his name is based on the jewel Titanite.
Ad blocker interference detected!
Wikia is a free-to-use site that makes money from advertising. We have a modified experience for viewers using ad blockers

Wikia is not accessible if you've made further modifications. Remove the custom ad blocker rule(s) and the page will load as expected.