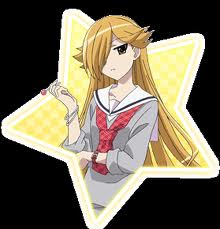 Shouko Aizawa (藍沢晶子Aizawa Shōko

?

)

Voiced by: Miyuki Sawashiro
Also one of Ruby's classmates, Shouko is a bit of a favorable girl who sometimes has a tomboyish personality and likes candies. Sometimes has a lollipop on her mouth, she is friends with Charotte and Waniyama, who sometimes disagrees with Ruby on some things. She is shown to have a banchou-like personality, very competitive during races and also has a bit of a bitter tongue since the first grade. Usually gets punished for Cleaning Duties, she is an expert on riding motorized scooters and always keeps her promises as shown in Episode 5, when she gave Angela a Lollipop after winning the race. She have a crush on Master and she is fond of Rald.
Ad blocker interference detected!
Wikia is a free-to-use site that makes money from advertising. We have a modified experience for viewers using ad blockers

Wikia is not accessible if you've made further modifications. Remove the custom ad blocker rule(s) and the page will load as expected.