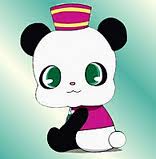 Rald (ラルドRarudo

?

)

Jewel: Emerald
Species: Panda
Gender: Male
Jewel Power: Harmony and Family Love
Attribute: Magical Green
Voiced by: Mayumi Tsuchiya
Rald is Jewelpet partner of Rinko's parents. He's a black and white Panda who symbolizes harmony and family love. He wears a dark pink waistcoat and a pink and yellow striped hat. He also wears a dark green jewel necklace. Debuting in Episode 8, Rald is an easy going Jewelpet at one's own pace. He is good playing musical instruments especially the ocarina and sometimes says Nakayo and Kikotoha in one of his speeches. He was awakened when Rinko convinced her parents not to divorce. He later reapears in Jewelpet Twinkle along with Peridot in the human world, searching for a "Sparkling Round Thingy" to make his wish come true and find his partner. But he somehow caused Peridot a lot of trouble in Akari's school during the new year. His speeches always end with "Rarudo" and refers to Labra as "Sempai". In Jewelpet Sunshine, he is seen in Ruby's class and he is larger than they other Jewelpet. His birthday is on May 17 and his name is based on the jewel Emerald.